Beautiful people for DRYKORN
Friends & Partners
Our styles are not brought to life by machines, but by people. They are designed, made and worn by people. People like Anita, sample tailoress at DRYKORN for over 20 years. We are committed to further reduce the impact that manufacturing our clothes has on the environment. To make sure this happens, we're working with partners who treat their workers with respect and share our values.
Our Code of Conduct applies to all our manufacturers - without exception. We visit our production sites on a regular basis to get a first-hand impression and to strengthen cooperation on a personal level. In addition, all manufacturers are inspected by third-party audited1 to ensure compliance with demanded working conditions and initiate improvement actions. However, these visits are only snapshots. That is why we focus on building long-term relationships with our suppliers, to establish a transparent, open and trusting cooperation.
1 An audit is an on-site inspection. It is checked whether processes, requirements and guidelines are complied with in accordance with the Code of Conduct.
Anita, sample tailoress at DRYKORN for over 20 years.
"Your clothes are made my real people"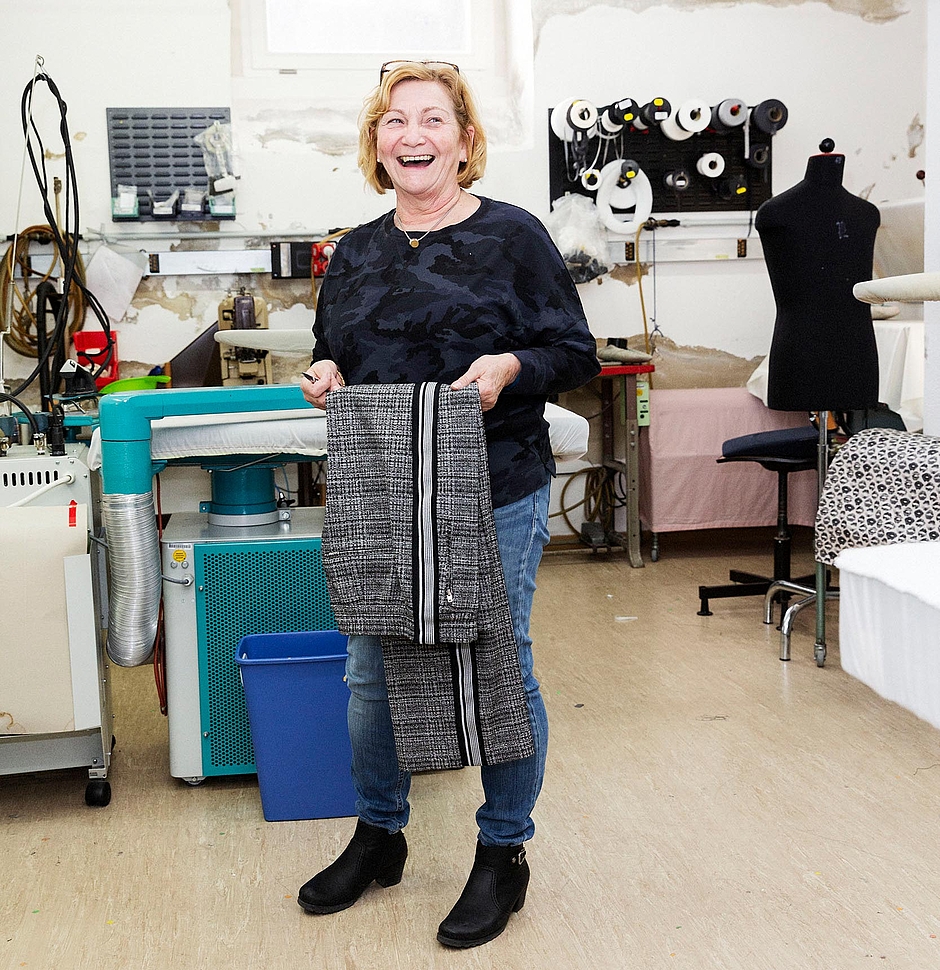 OF OUR
PARTNERS
ARE AUDITED
Audit rate - based on garment quantities in spring/summer and autumn/winter 2021 collections.
Where do our clothes come from?
World map: DRYKORN production countries - fabrics, ingredients and ready-made garments
*Distribution of ready-made garments in relation to the number of pieces of the spring / summer and fall / winter 2021 collection.
Production Countries
Since the company was founded, the focus of our fabric, trims as well as ready-made garment productions has been in Europe. Some of these fabric and trim partners have been with us for 25 years. Nothing has changed to this day. For certain product groups we use the know-how of companies in Turkey, Tunisia and Asia. When selecting our suppliers, we focus not only on the high quality of our products, but also on resource-efficient production processes and short transport routes. 69% of all our garments are produced in Europe (including Turkey), 9% in North Africa (Tunisia) and 22% in Asia. No matter the country, all suppliers must meet the high social and environmental standards. Fair and humane working conditions are not self-evident erverywhere in the world, which is why we take advantage of our opportunities, for example by means of audits, to identify problems and initiate improvement actions. Thanks to our long-standing relationships and far-reaching insights into the supply chain, we can reinforce our social standards and environmental measures in a concrete and direct manner.